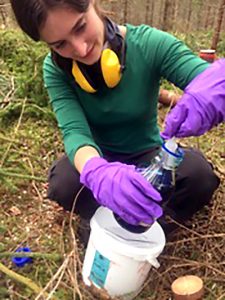 I am a biologist with a broad interest in applied ecological topics.
My background is diverse and includes research experience in river restoration, plant and marine benthic communities.
I enjoy applying scientific knowledge in the context of improving technical application, realizing a sustainable use of natural resources and preserving nature.
I moved to Sweden in 2015 and especially appreciate the high accessibility to nature that everyone here enjoys. The biological treatment agent Rotstop® is commonly used to reduce infections in Norway spruce, caused by the fungus Heterobasidium annosum (root rot). The treatment has been proven to be efficient by numerous studies and all major forest companies use it.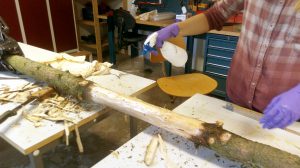 There is however lack of knowledge how the treatment performs during regular forest operations, as opposed to controlled experiments.
I am in charge of a study that tests Rotstop® in the field, where heavy machinery, time pressure, weather conditions and technical challenges potentially influence the treatment's performance. The results will give insight in the real efficacy of Rotstop® against Heterobasidion infections and improve forestry operations.
I am furthermore involved in a trial that tests other biological treatments against root rot.
DEGREES AND EDUCATION
• MS Environmental Mangement (Ecology), University of Kiel, Germany
• BS Biology, University of Göttingen, Germany
Teaching
Professional experience