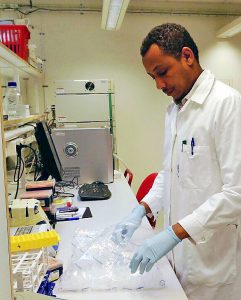 Right now I am involving as lab technician in two projects:
1/ Identification of Phytophthora ssp attacking the forest trees in Sweden
2/ Improving Ash cloning against ash die back
Generally I enjoy working in the lab with DNA extraction, running PCR and preparing samples for sequencing. I have very strong background in plant genetic resources biodiversity and conservation, as well I am interesting in breeding to improve the plant materials against noxious diseases using different tools to understand the heritability of susceptibility and resistance, such as population genetics and quantitative genetics. In the future I am so eager to go deeper for well understanding toward genomic selection.
DEGREES AND EDUCATION
• BSc in Crop Production, Seed Technology (2005), from Nile Valley University-Sudan, faculty of Agricultural Sciences
• MSc in Biology (2012) from Swedish University of Agricultural Sciences (SLU), Faculty of Landscape Planning, Horticultural and Agriculture, Department of Plant Breeding, Alnarp-Sweden.