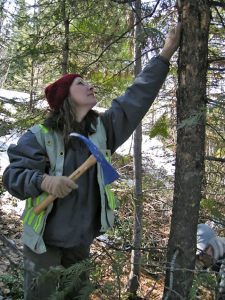 My research line deals with forest pathogens, particularly alien invasive pathogens that threaten the economic and ecological sustainability of forests.
I study the intimate relationships between fungal organisms and trees, the intricacies underlying invasive biology and mechanisms by which trees defend themselves against plant pathogens. Understanding the genetic- and biochemical-based interactions of tree resistance, pathogens and the environment is critical to maintaining healthy, sustainable and
resilient forests in a changing world.
We use various techniques including both traditional and molecular diagnostics and next-generation sequencing to address stakeholder-driven needs that will have applied value to conservation, and to land and forest managers.
DEGREES AND EDUCATION
• Docent (Forest Pathology), Faculty of Forest Sciences, SLU (Sweden), 2017
• PhD (Forestry), Faculty of Forestry, University of British Columbia, Vancouver Canada. 2007
• Honours Bachelors (Forest Conservation), Faculty of Forestry, Lakehead University, Thunder Bay Canada